Renewable Exchange has been ranked as one of the top Power Purchase Agreement Marketplace Solution Providers in the world by Guidehouse Insights, a leading independent research firm.
The Leaderboard report, published this week, identified 10 market leaders providing online platforms, advisory services and marketplaces within the corporate and utility PPAs. They were all rated using criteria such as vision, go-to-market strategy, partnerships, technology, geographic reach and more.
Robert Ogden, CEO and Founder, comments: "The Guidehouse Insights Report is a fantastic recognition of our work and a great validation of the results we've achieved. From a start-up 6 years ago, to featuring among the global top 10!

Renewable Exchange revolutionised the PPA market in the UK but we won't stop here. We continue to innovate and build new solutions, supporting the growth of renewables in the UK and soon internationally. It's an exciting time for the company and we're pleased to see our solutions already recognised in the global PPA universe, too!"
The Renewable Exchange platform allows all renewable energy generators to access clear insights about their assets and the PPA price they can achieve and to easily tender out PPAs to the whole of the market in a highly-competitive format. The state-of-the-art solutions offered make it the go-to platform in the UK with over 1900 independent generators now using the platform and with more than 1400 PPAs successfully executed.
"Digital platforms that incorporate knowledge and expertise from traditional PPA solutions, combined with advisory services, will facilitate and accelerate PPA transactions as well as renewable energy capacity growth." – Guidehouse Insights
The issuing of the Report coincides well with the start of our European expansion, too. We are launching the Renewable Exchange platform in Germany this year to support Germany's transition to a subsidy-free world for renewables and to help create a transparent and liquid market for trading of merchant PPAs.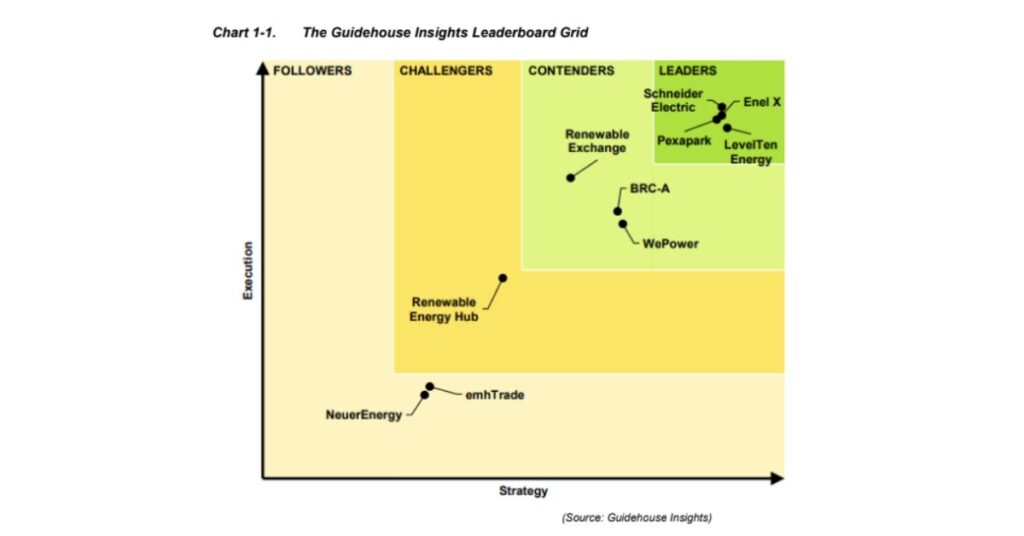 Buy the complete report: Guidehouse Insights Leaderboard: Power Purchase Agreement Marketplace Solution Providers.