January 21 has been a record month for Renewable Exchange, with 91 independent renewable generators securing power purchase agreements (PPAs) following the surge in UK power prices.
Installed capacities ranged from 45 kW to 40 MW.
10 different suppliers won PPAs.
18 different suppliers competed on tenders.
Winners included multinational energy companies to renewable-focused niche suppliers.
The sharp rise in prices that followed depressed prices seen throughout most of 2020 (an effect of demand destruction due to COVID-19) acted as a catalyst for generators to embrace tech solutions and respond quickly to market opportunities.
The Renewable Exchange platform provides daily market updates through bespoke PPA forecasts, allows generators to react to these signals and optimise their contracts by accessing a wider market of buyers and ensuring they achieve the best prices for their power.
The tech platform supports sellers of power by:
Increasing financial returns.
Improving the efficiency of the tendering process.
Accessing a greater pool of off takers.
Reducing time in analysis of offers with complete transparency.
Retaining the control over who, when and how long PPAs are executed for.
We have seen price movement lead to increased tendering and PPA executions as denoted on the graph below.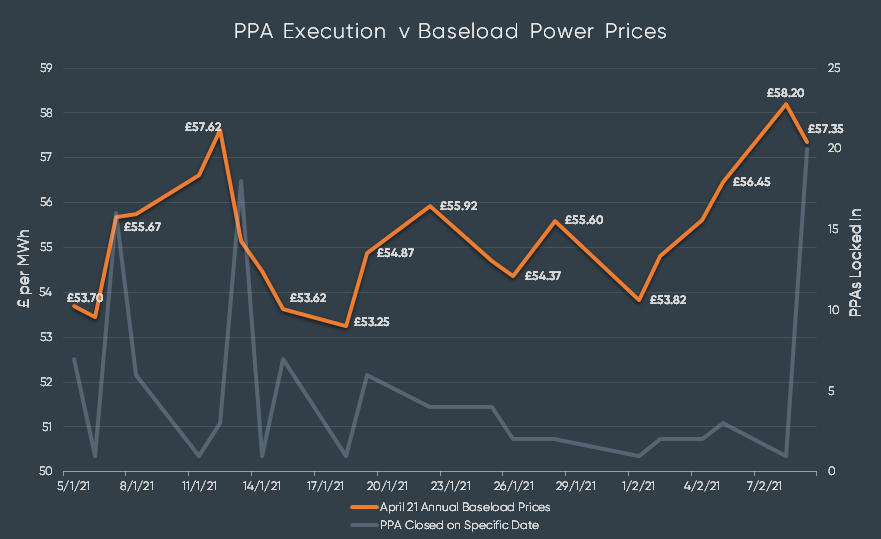 The platform provides a low cost route for 'offtakers' to access renewable power and green certificates.
Robert Ogden, Founder and CEO Renewable Exchange, says "We are really proud that our tech was able to respond to the market opportunity and we are excited by the new products and features our second release of the platform will offer asset owners and offtakers when it launches in the spring."
About Renewable Exchange
Renewable Exchange is an online digital marketplace and insight platform for Power Purchase Agreements. Founded in 2016 by Robert Ogden, Renewable Exchange serves over 1400 independent generators in the UK representing over 4.2 GW of installed capacity.
Renewable Exchange is supporting both existing operational assets and new projects looking to be developed subsidy-free in the UK via its suite of market insight tools and an innovative PPA marketplace which enables generators of any size to fully optimise and transact the sale of their electricity.