Hydropower plays an essential role in the UK's energy security, providing peaking, balancing and other grid services. At Renewable Exchange we proudly support over 200 hydro sites in the UK ranging from 14kW to over 20MW export capacity.
This week Victoria Kalina, our Marketing Manager, and Vivian Baliozian, our PPA Executive, attended the BHA Hydro Network in Shrewsbury. Renewable Exchange has been a member of the British Hydropower Association for more than 2 years.
This was the first live event organised by the BHA since we'd joined – it was great to connect with our clients and partners face to face again.
The BHA Team always puts together a very interesting conference programme. This year many of the presentations revolved around case studies and success stories of effective upgrades and system renovations. There is ample room for innovation in hydropower and the UK is certainly among the frontrunners in this space.
We also had a chance to talk about PPAs and what makes up the export power revenue streams for hydro schemes of various sizes. Victoria Kalina talked about maximising revenue for hydropower in the UK, discussing power purchase agreements and their structuring with relation to Feed-in-Tariffs, Renewable Obligation support and green certificates (REGOs) trading.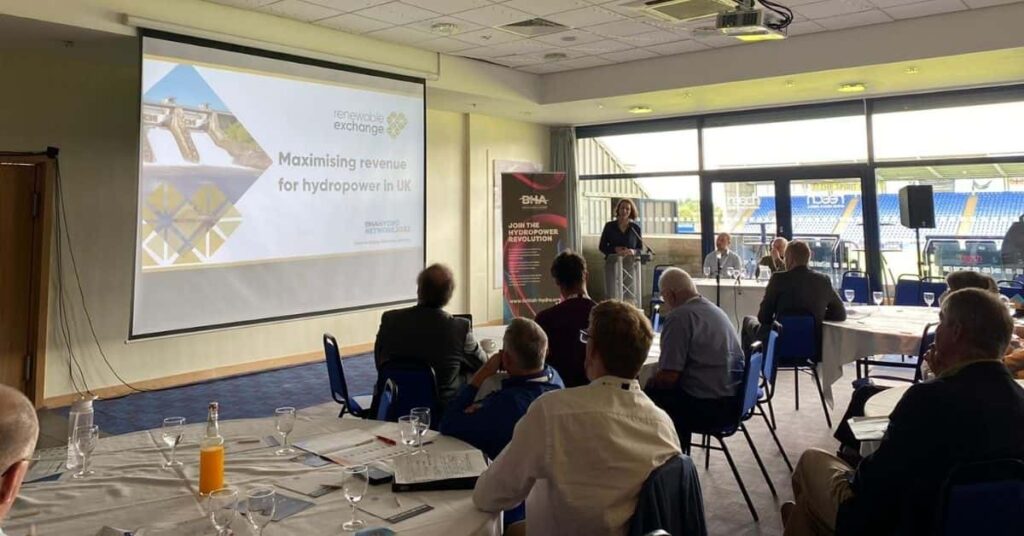 We continue to engage with hydropower asset owners and operators across the UK. Next month our team will be going on a site visit in Scotland.
If you'd like to invite us for a chat and to show us around your site, please get in touch: [email protected] – we'd love to hear from you!