Power market conditions are proving to be more and more challenging in the light of the saddening events taking place in Eastern Europe. We've put together a brief explanation of what's been driving market uncertainty and how it may impact your PPA tenders.
gas supply stability and storage levels,
weather conditions and their impact on demand (as temperatures fall, the demand for electricity for heating increases)
weather conditions and their impact on renewable energy generation (with more wind power and solar power on windy and sunny days).
The power market was disturbed significantly by the events in Eastern Europe. In terms of energy security, they exacerbated the effect of prevailing low gas supply levels of the last few months. Since the 24th February, the power market has been extremely volatile, to the extent exceeding previous swings we saw in December.
The graph below shows how drastically power prices were changing between December and March 2022.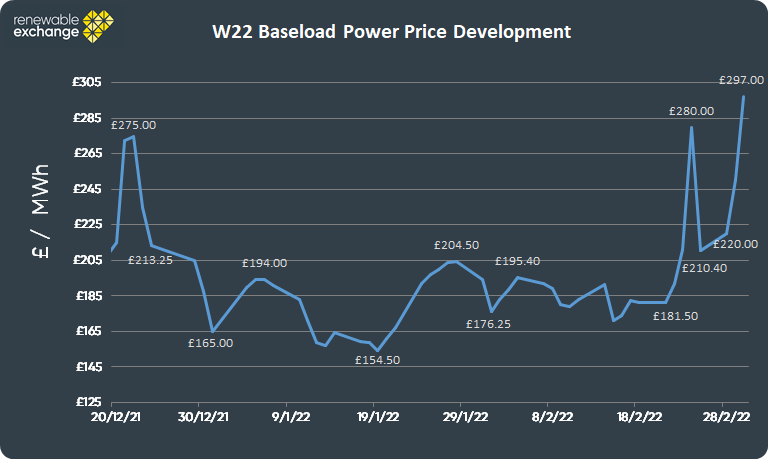 What does market volatility mean for PPA tenders?
Energy offtakers prepare bids for the PPA tenders based on their analysis and predictions of what the power will be worth on the market at the time of contract. When market volatility is as extreme as now, it's very difficult for them to ensure they accurately price the future contracts. To minimise their risk, some offtakers may decide not to bid on PPAs during the times of extreme power price volatility. 
As a result, your PPA tender may receive fewer bids and the bids obtained may be more time-restricted. 
However, despite the challenging nature of the current market, the situation does present an opportunity for many generators to achieve excellent PPA prices.
See the current PPA price you could achieve on the Renewable Exchange platform.
When launching your next PPA tender, be mindful of the current market conditions. If you'd like to talk through your expectations and possible tender outcomes, get in touch with our team at 0117 405 7931 or by emailing [email protected].